My PrEP Story: Dani (part 1)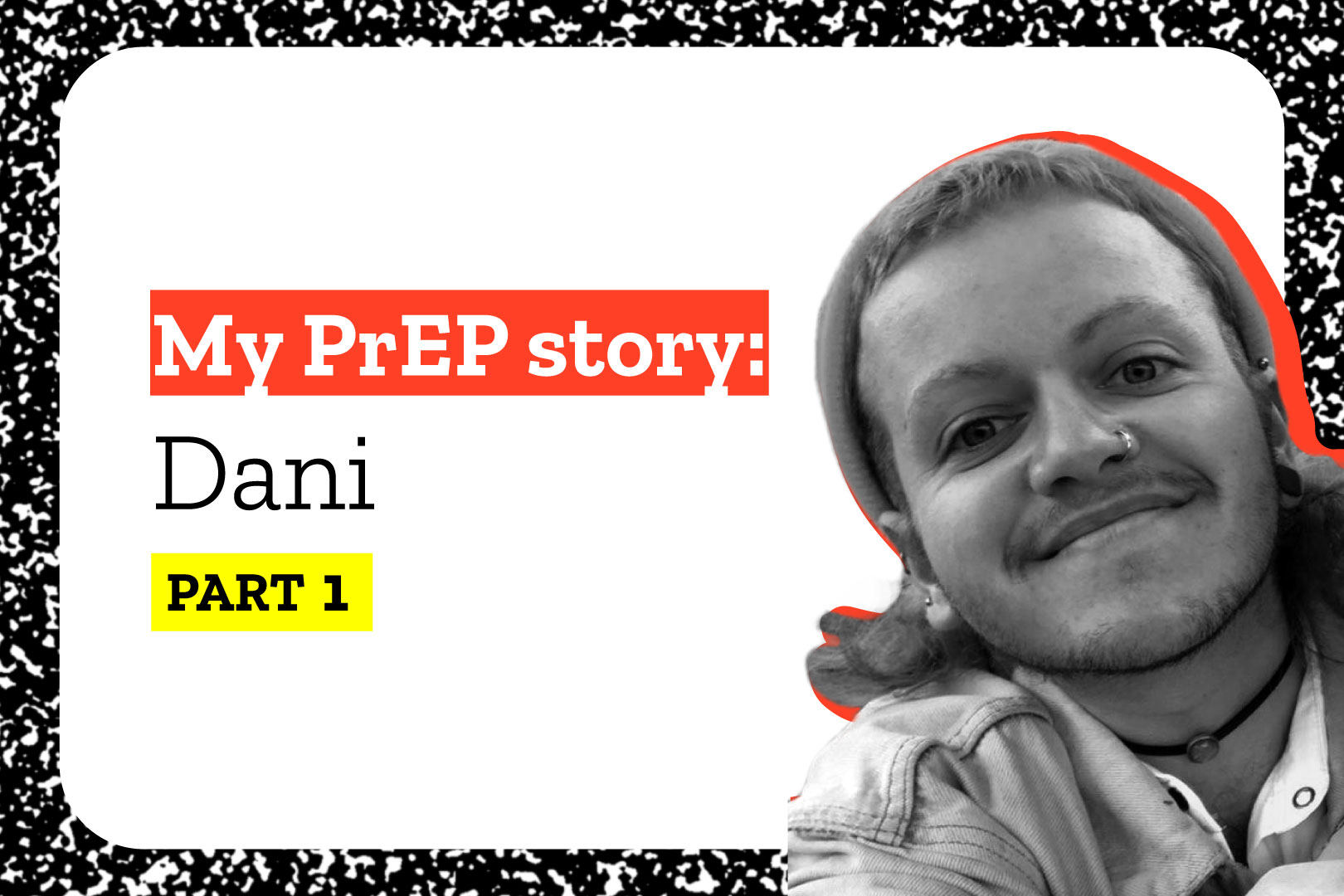 My PrEP Story is the personal voice of people who are using, or have used, PrEP, and those who have been at the forefront of providing it and advocating for it. Find out more about their decisions to use PrEP, how they have navigated using PrEP, and their very own PrEP journey.

 
I've found it oddly difficult to write My PrEP Story, given how much I have to say about PrEP, and how much it's shaped my experiences over the past five and a half years. I guess we have a bit of a convoluted history, with some pretty lifechanging plot twists thrown in. But, like so many important connections, the story of me and PrEP started in a windowless meeting room of a ramshackle, baffling but absolutely fierce grassroots activism group, just off the City Road. It was early October 2015, and without really knowing why, I – a straight, cis woman – had found myself at an ACT UP (Aids Coalition To Unleash Power) meeting where, before volunteering to co-ordinate an upcoming protest orgy, two dashing blonde young things had given us brief presentations on what would be a truly era defining development. 
"I've just got back from New York where there's this thing called PrEP. It's a pill that they give you for free if you're having sex without condoms and it actually stops you getting HIV, even if the person you're fucking is positive and transmittable!" one of them had exclaimed with gleaming eyes. 
"But no one even seems to have heard much about it here, and it's barely available," the other added, bringing us back to earth, "so we've done a bit of digging and found out it's available to buy direct from suppliers in India for next to nothing, so we thought we'd put together a website and call it 'iwantprepnow.co.uk', so people can get the information they need to buy it for themselves. It's nothing major, but it's pretty swish, right?" 
Okay, they didn't use the word 'swish', but it was absolutely very major, and certainly VERY swish. That website is one you're doubtless all familiar with and has supplied PrEP to thousands of people over the years until it was finally made available to all on the NHS about a year ago. Being present at that first meeting now has a hazy, filmic sheen to it in my memory; a moment that really did kickstart a new era of agency in healthcare for our community. 
I know this is meant to be my PrEP story, and so far, I've just told the story about iwantPrEPnow… but in retrospect, that moment unlocked a portal of selfhood for me. I went into that meeting believing myself to be a straight, cis woman, and came out of it (although I didn't realize at the time) a queer tranny powerhouse, who would go on to protest naked in the offices of Gilead (who make branded PrEP), speak at an international PrEP conference, liberally shag whoever I want without fear of the overwhelming weight of my newfound community's historical trauma, about which I still had so much to learn at that point. 
PrEP released my recognition of myself and my community. I didn't know why I'd gone to that meeting, except that I'd felt compelled to from the second a friend casually mentioned it to me a few days before. As the days spilled into weeks, and sharing a bottle with an HIV positive friend turned into writing my masters dissertation on the intersection of HIV activism with Queer identity expression, my participation in HIV and broader sexual health activism and advocacy ripped me from the miserable predestined expectations I'd been deluding myself was my path in life, and rooted me in the overwhelming, joyous, angry, sexy as fuck community I've come to celebrate as my own, in all its juicy chaos and liberation. 
Two years after that meeting I stood on the stage at Ku Bar in Soho and took my first PrEP pill in front of a standing ovation of my siblings, at a wonderful community resource called 'Let's Talk About Gay Sex And Drugs'. That pill contained chemicals and formulas that facilitated the sex I wanted, but an unexpected side effect gave me a sense of certainty in my identity that I had never known before. Toying at the time with ideas of gender based on some stuff I'd read online had taken me to the point of using they/them pronouns and cutting my hair short(er), but to fully realize myself I needed my community to share in my celebration of the selfhood I had never been able to find. PrEP was my portal to that community, and that celebration. The activism, the history, the people, the absolute boundless devotion I have discovered to a collection of people who I am still ravenously absorbing into my experience of living queerly – none of it would have happened were it not for that meeting, for that group of people coming together to continue the bittersweet cultural necessity of queers fighting for their right to existence. 
And now here I am, in my own queer, genderqueer, neon, femme, hairy, mulleted power, sometimes taking PrEP and sometimes not. It isn't plain sailing. To misquote Uncle Ben, with great power comes overwhelming heartache, as I feel myself bashed on all sides by a society still a million miles away from basically accepting me and my gender mêlé into its crusty, archaic folds, but frankly I'm mostly happier out here on the liberated edges anyway. So, I'll take that blue pill any day, as a token of my resistance, subversion, self-actualization and all the things the Matrix said it wasn't. 
— Dani