Calling budding filmmakers!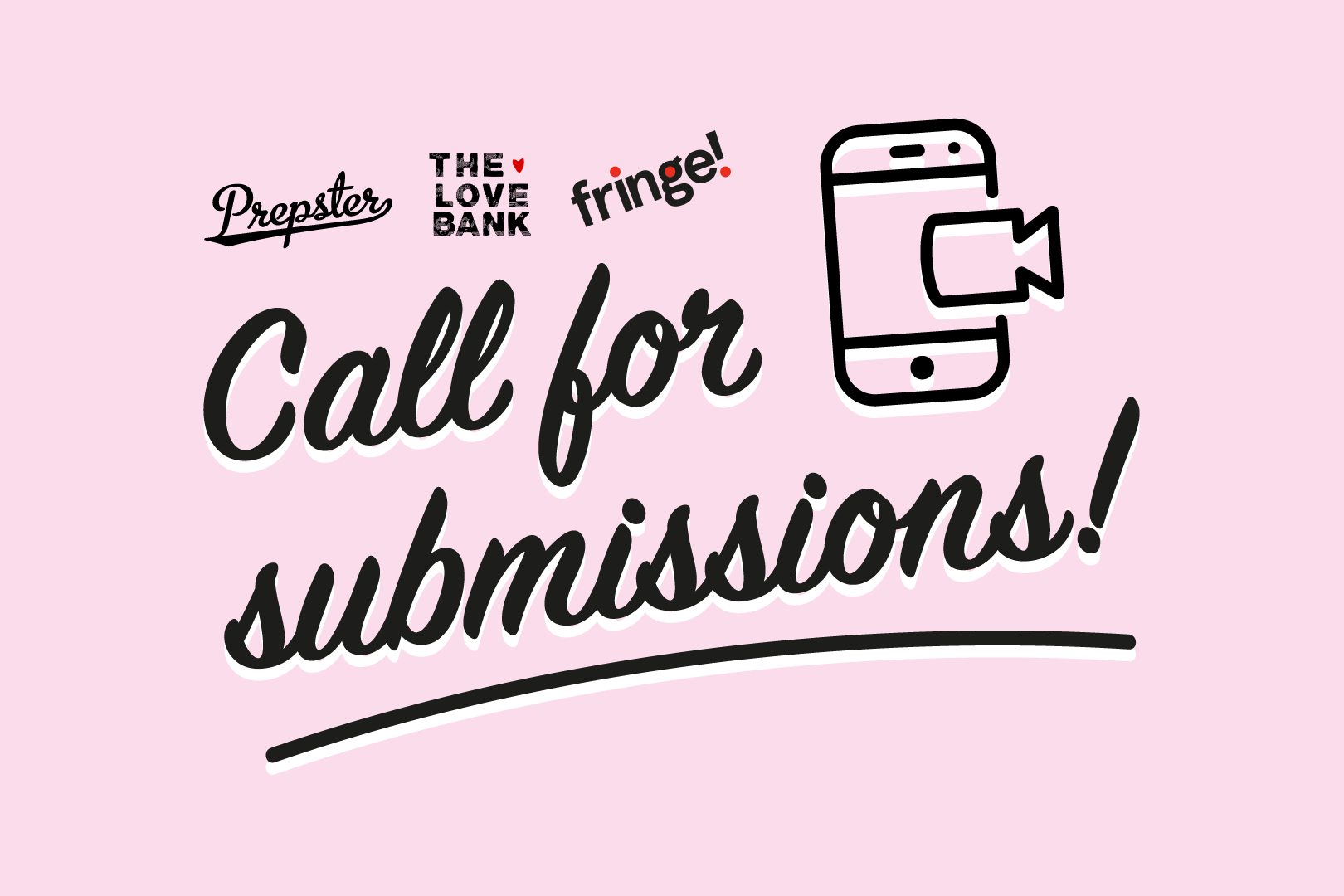 Take part in The Love Bank, PrEPster and Fringe!'s sexual health film making competition. Four prizes of £250!
Do you want to make a short DIY film that promotes sexual health and information about PrEP? We're giving away four prizes of £250 to individuals and groups to make a short 90-120 second that will be shown in clubs and venues as part of PrEPster's Club Crew project. The films should be short, sexy, sex-positive, and diverse. Film them on your phone, do a dirty edit on your laptop, see them playing on the walls of venues across the nation!
To take part, send a short one-page concept of your ideas to [email protected], along with contact details by midday on Monday 16th October 2017. For more details see below.
All four winning films will be shown at an event at The Eagle London on Friday 1 December 2017.
DATES AND DEADLINES:
Midday Monday 16 October 2017 – short one-page concept of ideas
Monday 23 October 2017 – successful concepts notified
Friday 10 November 2017 – deadline for completion and final submission of films
Tuesday 14 – Sunday 19 November 2017 – Fringe! Film events
Friday 1 December 2017 – event at Eagle London
We're putting out a call from The Love Bank, PrEPster and Fringe! for budding film makers to make a short home-made film that promotes sexual health and increases information about PrEP. The target group/s for the films will be people who could most benefit from PrEP – including gay and bi men who have sex with men; trans and non-binary people; Black Africans; and especially BAME MSM.
The films will be shown in clubs and venues, as part of club nights and as such the films needs to focus on the visual. Graphics can be included in the films – but they should be minimal. The films should be short (we suggest around 90 secs – 120 secs), very DIY (it's cool to film on a phone), diverse, sex positive. Anyone taking part in the films should be aware that the films will be publicly available (including internationally) – and they need to be aware of any possible implications of taking part, and should fully consent to being in them.
We're encouraging films that might be shown in and around specific events/communities/populations. So, they might have a leather/kink focus, or a BAME target, or be for a particular 'crowd' (such as a Duckie crowd, or Eagle, or Bootylicious). We're not necessarily envisaging that every film will be shown at the same event/venue, for example. The films might be shared, with appropriate partner organisations, for use across the world.
We're running this as a competition in the run up to Fringe! and will provide prize money of £250 for up to 4 films. Interested individuals/groups should provide a very brief one-page summary of their concepts and ideas by email – and PrEPster will then work with the individuals/groups to work up a final concept.
Final films will be shown at events/clubs over the coming year, including at a special event being held at The Eagle on Friday 1 December. The films will be available, as appropriate, on PrEPster's website and will be available for clubs and venues to download to show. Copyright of the winning films will be held by PrEPster, and no further payment will be made to film makers other than the prize money.